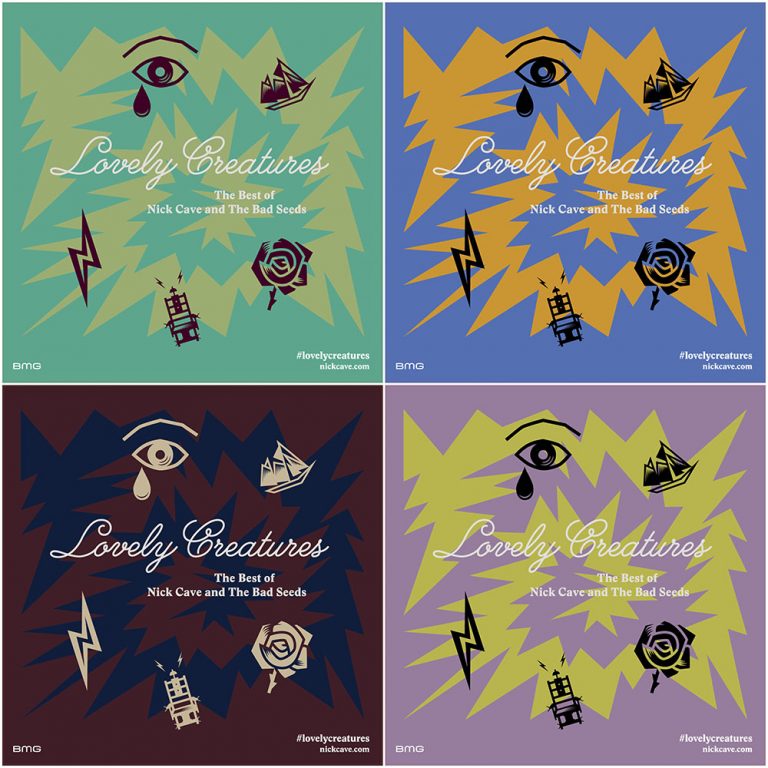 Lovely Creatures Competition USA
From 5th May record stores across the USA are running a competition on Facebook and Instagram to win one of 70 prizes including a signed copy of the Lovely Creatures Limited Edition Boxset.
To enter take a photo of yourself with the Nick Cave & The Bad Seeds art board found in store and post the photo to Facebook and/or Instagram using #lovelycreatures.
The contest will run from 5th May until 31st May. Winners will be randomly selected and prizes will be sent by 30th June.
Please note posts must be 'public' in order to be entered into contest.
PARTICIPATING STORES:
Rainbow Records,  54 E Main St, Newark, DE 19711
Angry Young & Poor, 356 West Orange St, Lancaster PA 17603
Crooked Beat, 26 South Whiteoak St. Kutztown PA 19530
Young Ones, 26 S Whiteoak St, Kutztown, PA 19530
Revolver Records, 26 Cunard Rd Philadelphia PA 14216
Ka-Chunk Records, 78 Maryland Ave Annapolis MD 21401
The Sound Garden, 1616 Thames St. Baltimore  MD 21231
Dyno Records, 1 Middle St Newburyport MA 1950
AFK Books & records, 4801 Shore Dr, Virginia Beach, VA 23455
The Sound Garden, 1616 Thames St, Baltimore, MD 21231
Main Street Music, 4444 Main St, Philadelphia, PA 19127
Princeton Record Exchange,  20 S Tulane St, Princeton, NJ 08542
The Telegraph, 19 Golden St, New London, CT 06320
Jack's Music Shop, 30 Broad St, Red Bank, NJ 07701
Record Theatre, 1762 Main St, Buffalo, NY 14208
Lakeshore Record Exchange, 370 Park Ave, Rochester, NY 14607
Darkside Records ,  611 Dutchess Turnpike, Arlington, NY 12603
Electric Avenue Music, West Chester, PA
Juke Records, 4526 Liberty Ave, Pittsburgh, PA 15224
Gerosa Records, 246-258 FEDERAL ROAD BROOKFIELD CT 6804
Gallery of Sound, 186 Mundy St, Wilkes-Barre, PA 18702
Long In the Tooth, 2027 Sansom St.  Philadelphia PA 19103
Scotti's Record Shop, 351 Springfield Ave. Summit NJ 7901
Norman's Sound and Vision, 555 Metropolitan Ave.  Brooklyn NY 11211
Record Runner, 5 Jones St, New York, NY 10014
Kiam Record Shop, 95 Main St. Nyack NY 19060
Landlocked Music, 202 Walnut Bloomington, IN 47404
Plaid Room Records, 120 Karl Brown Way Loveland OH 45140
Homer's, 1210 Howard St Omaha, NE 68102
Greenlight, 4717 West KL Ave, Kalamazoo, MI 49006
Waiting Room, 113 W North Normal IL 61761
Down In The Valley, 8020 Olsen Memorial HWY Golden Valley Shopping Center Golden Valley MN 55427
Indy CD, 806 Broadripple Av Indianapolis, IN 46220
Luna Music, 5202 N College Av Indianapolis, IN 46234
Electric Fetus, 2000 4th ave S Minneapolis, MN 55404
Finders, 128 N Main St Bowling Green OH 43402
Dearborn Music, 22501 Michigan Ave Dearborn, MI 48124
Homer's, 1210 Howard St Omaha, NE 68102
Flat Black & Circular, 541 E Grand River East Lansing, MI 48823
Used Kids, 2500 Summit St COLUMBUS, OH 43202
Omega, 318 E 5th St Dayton OH 45402
Culture Clash, 4020 Secor Rd Toledo, OH 43623
UHF, 512 S washington Ave Royal Oaks, MI 48067
Strictly Discs, 1900 Monroe St Madison, WI. 53711
Exclusive Co, 1669 N Farwell Milwaukee WI. 53202
Radio Kaos, 968 Min St Stevens Point, WI 55481
Madcity Music , 600 Williamson Madison, WI 53703
Neat Neat Neat, 1836 Calhoun Ft Wayne, IN 46802
Lost Weekend, 2960 N High St Columbus, OH 43202
Karma, 21 N Post Indianapolis, IN 46219
Barely Bros, 783 Raymond Ave St. St Paul MN 55105
ZZZ, 2200 Ingersoll Ave, Des Moines, IA 50312
The Vinyl Groove, 679 Broadway Bedford, OH 44146
Records Per Minute, 2579 High ST COLUMBUS, OH 43202
Dimple, 2433 Arden Way, Sacramento, CA 95825
Dimple, Roseville Square Shopping Center, 1129 Roseville Square, Roseville, CA 95678
Dimple, 7830 Macy Plaza Dr, Citrus Heights, CA 95610
Dimple, 313 E Bidwell St, Folsom, CA 95630
Dimple, 2500 16th St, Sacramento, CA 95818
Dimple, 9692 Elk Grove Florin Rd, Elk Grove, CA 95624
Dimple, 2499 Arden Way, Sacramento, CA 95825
The Heavy Metal Shop,  63 Exchange Pl, Salt Lake City, UT 84111
Easy Street,  4559 California Ave SW, Seattle, WA 98116
Graywhale,  1773 4700 S, Salt Lake City, UT 84118
Graywhale, 4062 Riverdale Rd, Ogden, UT 84405
Graywhale, 824 9400 S, Sandy, UT 84094
Graywhale, 208 S 1300 E 
Salt Lake City, UT 8410
Silver Platters, 2930 1st Avenue South, Seattle, WA 98121
Jackpot,   3574 SE Hawthorne Blvd, Portland, OR 97214
Cactus, 29 W Main St, Bozeman, MT 59715
Sonic Boom , 2209 NW Market St, Seattle, WA 98107
Mod Lang, 6328 Fairmount Ave, El Cerrito, CA 94530
Boo Boo ,   978 Monterey St, San Luis Obispo, CA 93401
Streetlight,  980 S Bascom Ave, San Jose, CA 95128
Streetlight, 939 Pacific Ave, Santa Cruz, CA 95060
Music Millennium, 3158 E Burnside St, Portland, OR 97214
Skip's , 3215 W 11th Ave, Eugene, OR 97402
The Record Exchange,  1105 W Idaho St, Boise, ID 83702
Siren ,  527 Ramona Ave, Monterey, CA 93940
Everyday Music , 1313 W Burnside St, Portland, OR 97209
Everyday Music ,  115 E Magnolia St, Bellingham, WA 98225
Everyday Music , 1520 10th Ave, Seattle, WA 98122
Criminal Records, 1154-A Euclid Avenue NE, Atlanta, Georgia 30307
Fond Object , 1313 McGavock Pike Nashville, TN 37216
Park Ave CDs, 2916 Corrine Dr, Orlando, FL 32803
Monster Music , 946 Orleans Rd, Charleston, SC 29407
Grimey's, 1604 8th Ave S,  Nashville, TN 37203
SchoolKids Records , 

 2237 AVENT FERRY RD.  STE. 101 RALEIGH, NC 27606
Sweat Records, 5505 NE 2nd Ave. Miami, FL 33137
Oz Music , 506 14th St, Tuscaloosa, AL 35401
Arkansas Record Exchange, 
 4212 MAC ARTHUR N LITTLE ROCK, AR 72118
Daddy Kool Records, 666 Central Ave, St Petersburg, FL 33701
T-Bones, 2101 Hardy St, Hattiesburg, MS 39401
CD Central, 377 S Limestone, Lexington, KY 40508
Lunchbox Records, 825 CENTRAL AVE. CHARLOTTE, NC 28204
Wild Honey Records , 1206 Kenesaw Ave. Knoxville, TN 37919
Earshot, 3254 Silas Creek Pkwy, Winston-Salem, NC 27103
Schoolkids # 2,  905 W MAIN ST. DURHAM, NC 27701
Wax N Facts, 432 Moreland Ave NE, Atlanta, GA 30307
Al Bums Record Shoppe, 4606 S. MAIN ST.  ACWORTH, GA 30101
Fantasyland Records, 360 Pharr RD. NE Atlanta, GA 30305
The Groove, 1103 Calvin Ave, Nashville, TN 37206
East West Records, 4895 Orange Ave S, Orlando, FL 32806
Radio Active, 845 N Federal Hwy, Fort Lauderdale, FL 33304
The End OF All Music, 1423 N Lamar Blvd,  Oxford, MS 38655
Seasick Records , 5508 CRESTWOOD BLVD. BIRMINGHAM, AL 35212
Mojo Books & Records , 
2540 E FOWLER AVE. TAMPA, FL 33612
Central Square, 89 Central Sq, Santa Rosa Beach, FL 32459
Guestroom Records, 1806 Frankfort Ave. Louisville, KY 40206
Amoeba , 1855 Haight St, San Francisco, CA 94117
Cactus, 2110 Portsmouth Houston Texas 77098
End of An Ear,  4304 Clawson Rd, Austin, TX 78704
Euclid, 601 E Lockwood Ave, Saint Louis, MO 63119
Fingerprints, 420 E 4th St, Long Beach, CA 90802
Good Records, 1808 Greenville Dallas Tx 75206
Guestroom , 3701 N Western Ave, Oklahoma City, OK 73118
Guestroom , 125 E Main St, Norman, OK 73069
Josey Records , 2821 Lyndon B Johnson Fwy, Dallas, TX 75234
Lou's Records, 434 N Coast Highway 101, Encinitas, CA 92024
M-Theory, 915 W Washington St, San Diego, CA 92103
Mills  Record Company, 4045 Broadway Blvd, Kansas City, MO 64111
Music Record Shop, 3224 Locust St Ste 203, Saint Louis, MO 63103
Rhino, 235 Yale Ave, Claremont, CA 91711
Salzers, 5777 Valentine Rd, Ventura, CA 93003
Stinkweeds, 12 W Camelback Rd, Phoenix, AZ 85013
Twist & Shout, 2508 E Colfax Ave, Denver, CO 80206
Vintage Vinyl, 6610 Delmar Blvd, St. Louis, MO 63130
Vinyl Renaissance, 7932 Santa Fe Dr, Overland Park, KS 66204
Vinyl Renaissance, 16 N 10th St, Columbia, MO 65201
Zia Records, 1850 W Camelback Rd, Phoenix, AZ 85015
Zia Records, Rancho Center, 3370 E Speedway Blvd, Tucson, AZ 85716
Zia Records, 3201 S Mill Ave, Tempe, AZ 85282
Zia Records, 3029 N Alma School Rd, Chandler, AZ 85224
Zia Records, Mesa South Center, 1302 S Gilbert Rd, Mesa, AZ 85204
Zia Records, 2510 W Thunderbird Rd, Phoenix, AZ 85023
Zia Records, 4225 S Eastern Ave, Las Vegas, NV 89119
Zia Records, 4503 W. Sahara, Las Vegas, NV 89102